Home Offices Designed to Inspire
Whether it's an artsy studio or a functional office, we at Landsea Homes always have our sights set on the bigger picture. Each home and community we build is thoughtfully crafted with every aspect of your life in mind so that you can truly live in your element. From our innovative floor plans to our LiveFlex® optional packages, you can get the smart, versatile living spaces of your dreams that can easily adapt to your work-from-home needs.
When it comes to setting up your home office layout, it's important to make a space that you'll love to spend time in, which all comes down to the details. You'll want to include design elements and features that inspire and maximize productivity—but most importantly—feel like you. There are many ways to create a suitable and trendy workspace, but here are some of our favorites.
Neat & Multifunctional
It doesn't just have to be a space reserved for business calls and deleting emails. You'll feel organized and ready to take charge of the day in this second-floor loft turned home office—which moonlights as a late-afternoon play space—at rohe at neuhouse in Ontario, California. While neutral tones and natural lighting enhance the openness of this home office layout, sleek lines and shelving add depth and subtle sophistication for a harmonious atmosphere. Decorative yet functional pieces like ornate storage boxes and gold bookends make this space even more inspiring.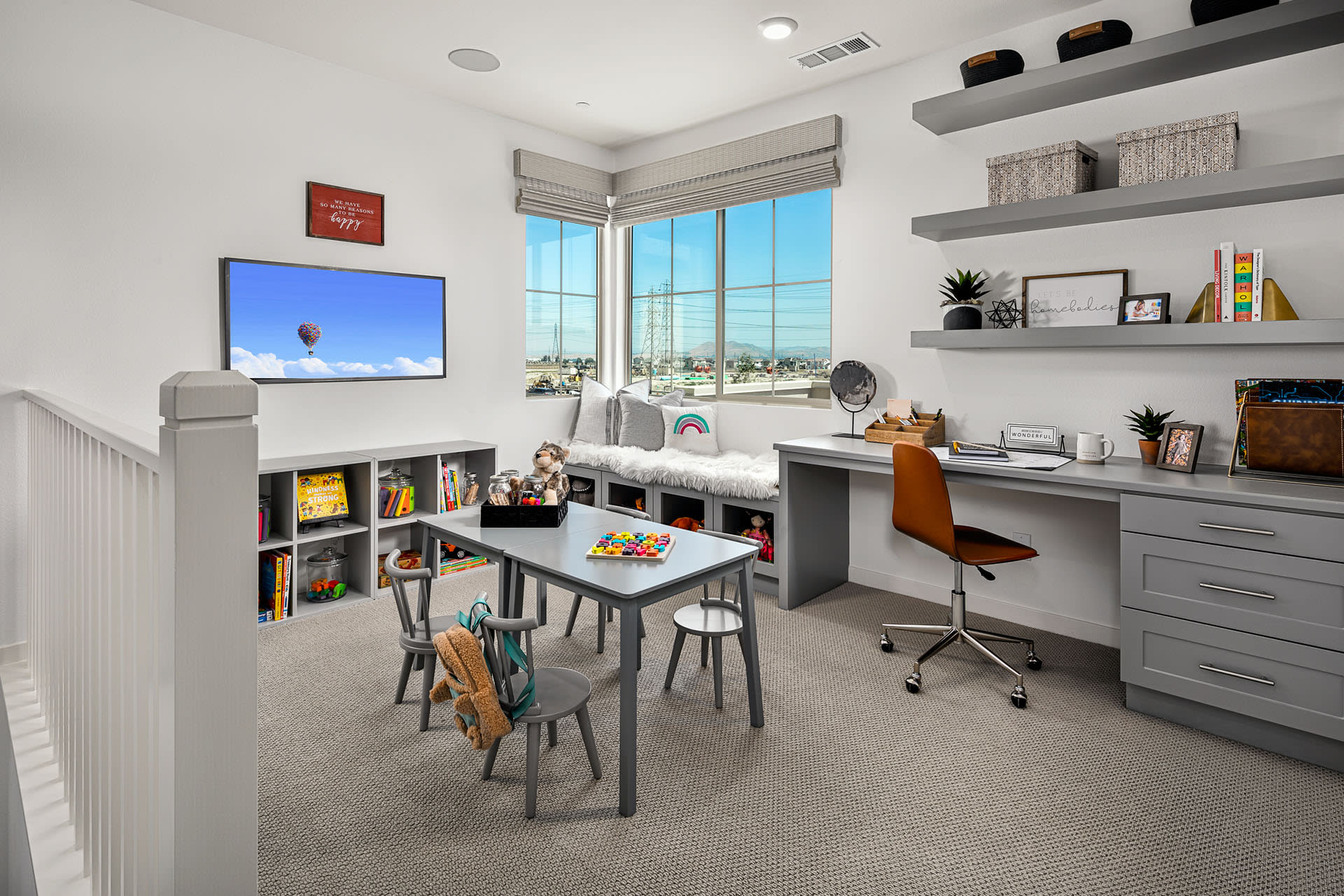 Plan Two at rohe at neuhouse in Ontario, CA
Bold & Pastoral
Sometimes, introducing little hints of the outdoors can get you into work mode, like in this super office at Kinbridge at Ellis in Tracy, California. Elegant and clutter-free with interest-piquing details, this home office will both soothe—through the spirit-enhancing power of nature—and get your creative juices flowing. Brown earth tones and animal prints and hides welcome an animistic approach and elevate the room's overall ambience, while a complementary blue accent wall along with minimalist yet classic furnishings and imaginative pieces give this home office layout a bolder, daring feel. You're bound to experience waves of brilliance when you work from home in a space like this.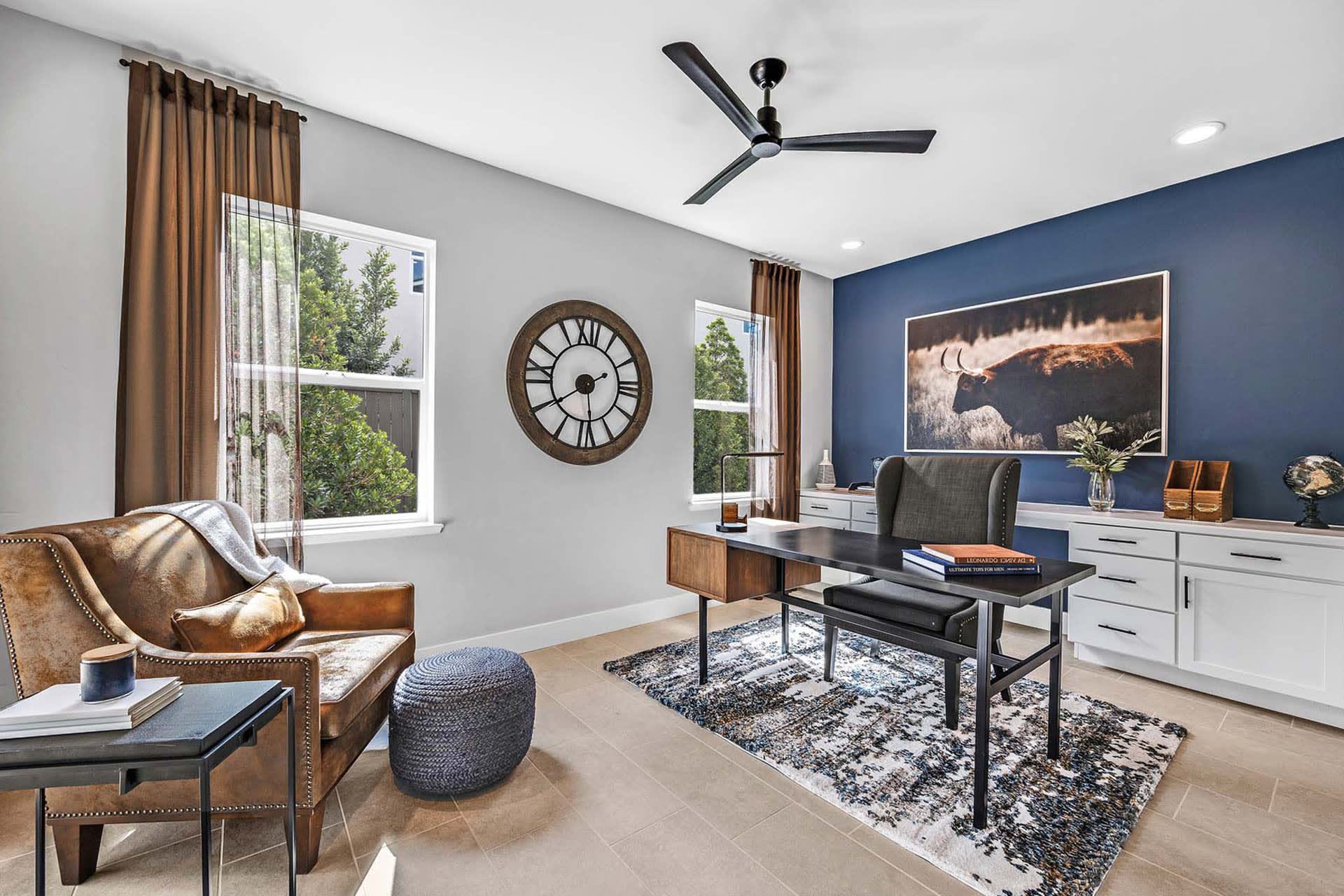 Plan Eight at Kinbridge at Landsea at Ellis in Tracy, CA
Everything really is bigger in Texas, and that includes home office design. This study at Belle Oaks in Bulverde, Texas, screams Lone Star State style, heavily featuring faux rawhide and busts and figures of the bovine and equine kind from floor to ceiling. Dark wood throughout completes the "home on the range" look.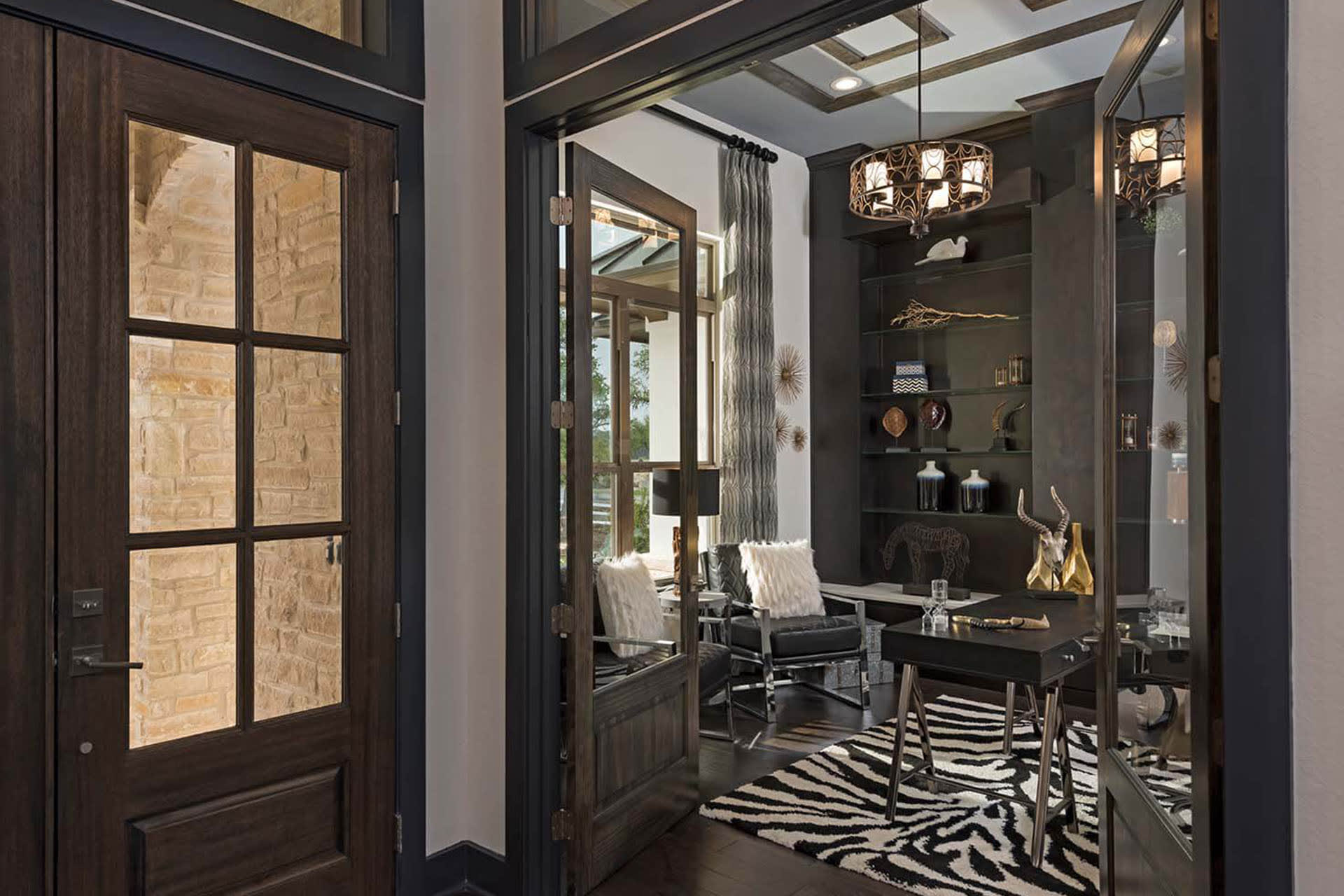 Tara Plan at Belle Oaks in Bulverde, TX
Open & Bright
You may be wondering how to decorate a home office as expansive as this featured layout at Townsend at Ellis in Tracy, California, for your best work-from-home life. With all the bells and whistles, this first-floor office includes a built-in oversized desk—perfect for midday brainstorming sessions. The natural elements in this workspace, like the lush landscape print and decorative plants, make for a tranquil atmosphere. Cool tones and light woods give off a bright and airy impression. And two simple yet stylish armchairs complete this cool, coastal look.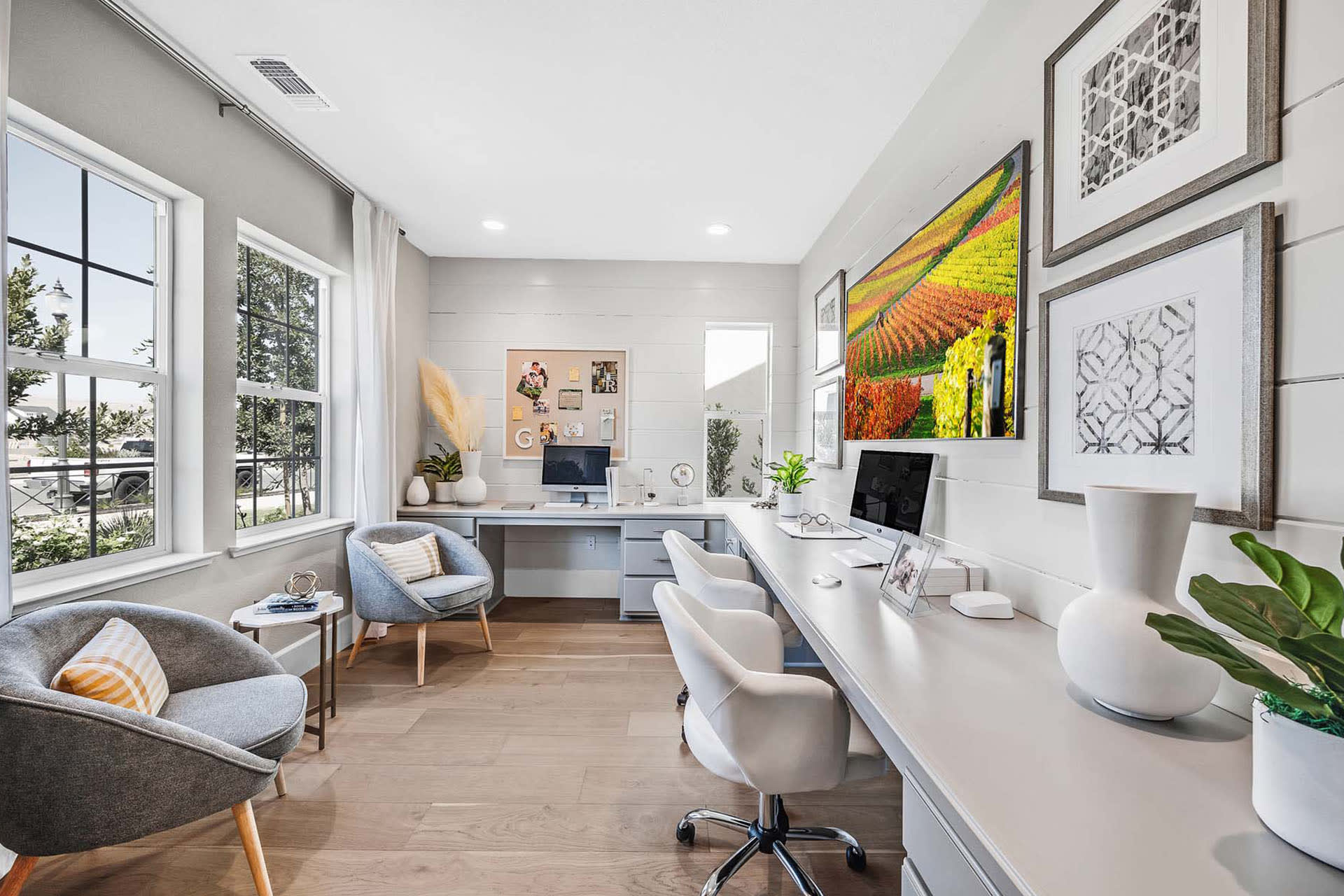 Plan Four at Townsend at Landsea at Ellis in Tracy, CA
Warm & Inviting
You want your home office to have the perfect balance of professionalism and at-home comfort. This office at Sunrise | Valley Series in Surprise, Arizona, does just that. Dark earth tones with vibrant pops of greenery put you in a pensive mood, while muted beige and cream armchairs and curtains help you achieve the sometimes-elusive state of flow. Abstract wall art, a geometric rug and paneled accent wall enhance the modern color scheme.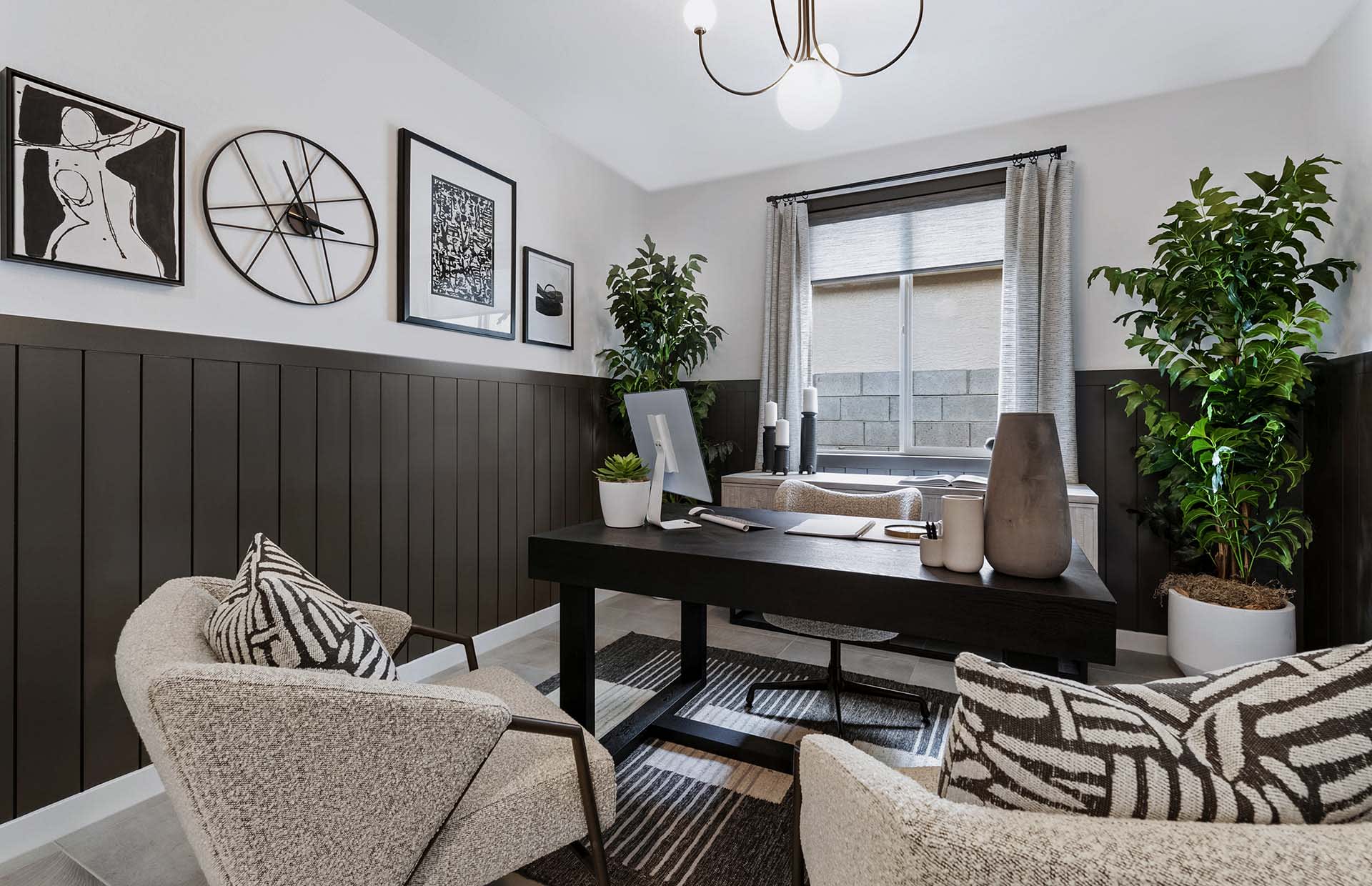 Parker Plan at Sunrise | Valley Series in Surprise, AZ
Sometimes, hinting at your favorite pastime is all you need to let the inspiration flood in—like in this den at Horse Creek at Crosswinds in Davenport, Florida, with golf motifs that remind you of good times on the green. An earthy color scheme highlighting cool grays, dark browns and muted greens adds warmth, while the textured accent wall entices the eyes with clean lines and added dimension.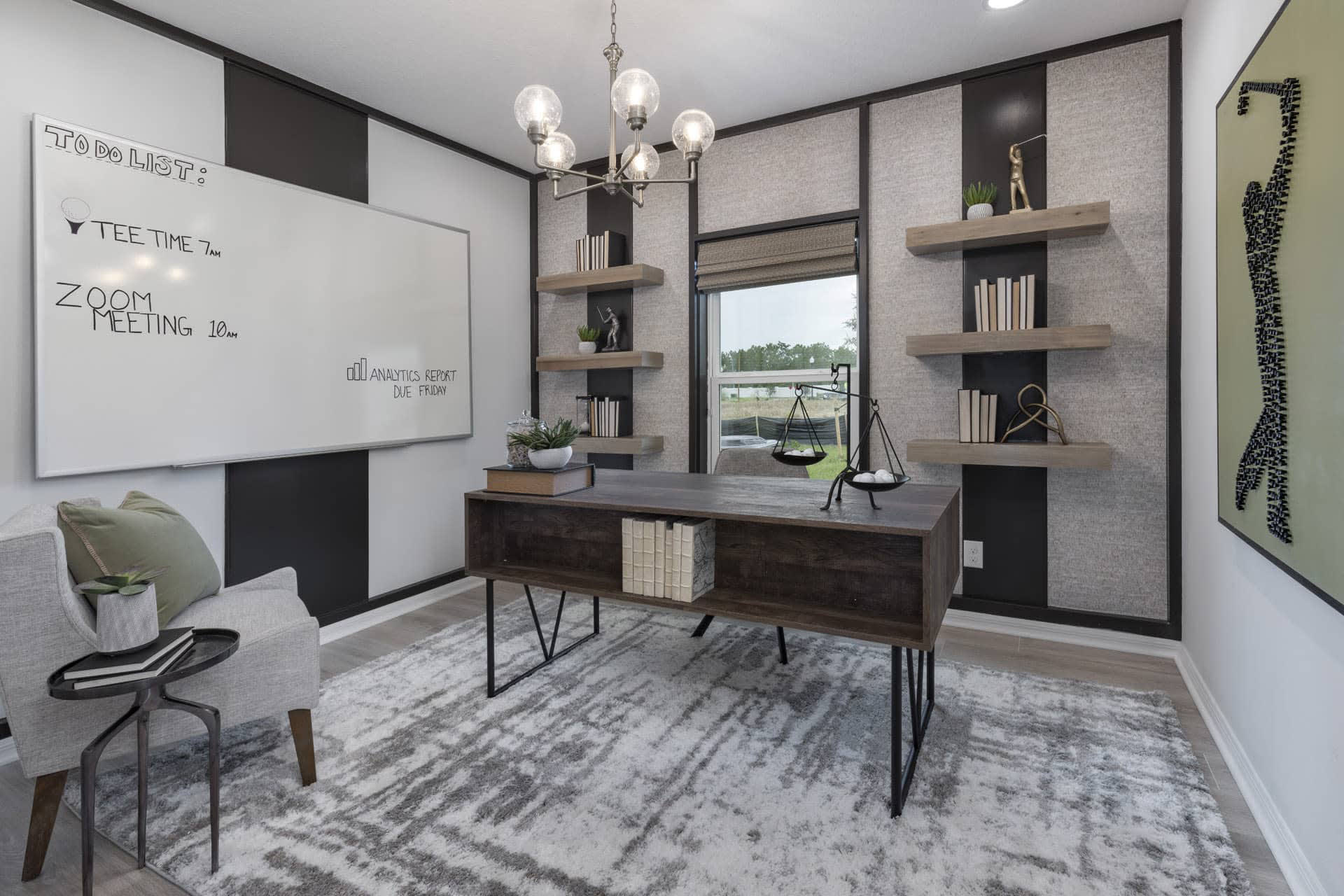 Sebastian Plan at Horse Creek at Crosswinds in Davenport, FL
Landsea Homes has communities across Southern California, Northern California, Florida, Texas and Arizona that have dynamic spaces and LiveFlex® opportunities waiting to be transformed into your ideal home workspace. Take the time to explore our innovative floor plans to find the one that will perfectly suit your work-from-home needs.
Already have a home office and looking to add a little more inspiration and comfort? Check out some easy tips to create a more productive atmosphere right at home.
5 Tips on How to Decorate a Home Office
Make It Comfortable. If you're going to be spending hours in your home office, you want it to be just as comfortable as it is practical. Investing in a high-quality chair for your desk or creating a cozy corner for thinking breaks can make all the difference.
Include Things You Love to Look At. From painting an accent wall your favorite color to embellishing your desk with family photos, cherished mementos and interesting knickknacks, personalizing your home office means you'll be happy to spend more time in it.
Storage Comes in All Shapes & Sizes. Everyone's home office looks different and may have unique limitations. Whether you're in the market for a specific style, size or function, it's important to explore various storage options and get creative to find what will best fulfill your needs.
Add Greenery. Whether you're a houseplant connoisseur or a green thumb in training, adding plants to your home office space brings the outdoors in and livens up the room. Plus, houseplants are known to improve concentration and boost your mood!
Lighten Up. The lighting in your home office can really change things up. Natural light can help keep you calm and more productive, so set up your desk where you can benefit from the sun shining through your windows. Don't forget table lamps for a warm glow during the darker hours of the day.
You can check out more home office design ideas on our Pinterest page. Plus, to keep up to date on all the latest news and updates from Landsea Homes, like us on Facebook and follow us on Instagram.