What to Expect in Your Smart Home
Landsea Homes is more connected and convenient than ever with the High Performance Homes initiative—ensuring that the smart technology you've come to expect is at your fingertips from the moment you move into your new home.
From convenience and customization to increasing energy efficiency and maximizing home security, the smart home technology offered in our High Performance Homes is designed to provide a superior living environment and enhance your home's ultimate comfort. There are plenty of benefits to note, but it all comes down to one thing: making it possible for you to live in your element.
Landsea Homes has chosen to partner with leading technology company Apple® because of their strong commitment to privacy and data protection. You want your home to feel safe and secure—and your automation features are no exception with Apple® HomeKit™ innovation.
So, what smart technology features are included when you purchase a new High Performance Home? Here's a helpful list of what you can expect:
Each High Performance Home includes an Apple® HomePod mini® that allows you to control all home automation features from one convenient mobile app. Use the Apple® Home app to control the entry door locks, thermostat, garage door opener, light dimmer switches, doorbell camera and more from anywhere within your home or even while you're away.
Plus, you can customize your experience to fit your lifestyle—with Siri® as your personal assistant. You'll be able to create "scenes" that group together multiple commands with just the sound of your voice. That means when it's time for bed, just say, "Hey Siri, it's bedtime," and watch the window shades close, lights dim, doors lock and thermostat change all at once.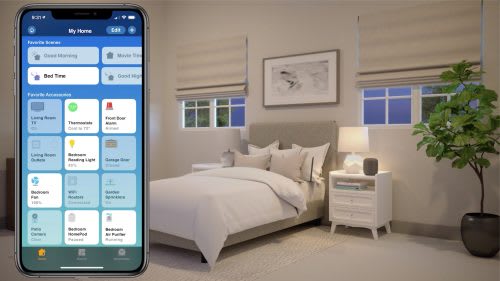 Home automation doesn't just offer convenience – it also leads to money-saving energy efficiencies. You'll never have to second guess if you turned off the air conditioning or left a light on. You'll have remote access to your thermostat and light switches all through the Apple Home app, managing your home with a tap or swipe. Having your home work for you has never been easier.
Wireless Network Internet
With wireless network internet, you can say goodbye to traditional Wi-Fi that transmits from a single location with little to no signal in some rooms. Linked Wi-Fi access points installed throughout your High Performance Home gives you maximum connectivity in every room without worrying about "dead zones."
That means you and your family can enjoy faster internet speeds and greater overall coverage, making it seamless for everyone to do their thing—listen to a podcast, stream a Netflix show, connect with co-workers on Zoom or play Fortnite online with friends—from any area of the home. And all at the same time.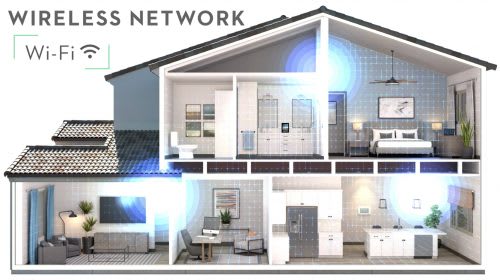 With cameras, automated door locks and lighting all controllable from the Apple® Home app, you can quickly activate security features to ensure your home is safe with a single tap or your voice before heading to bed or leaving for vacation.
Plus, you can choose to receive alerts on various devices to monitor activities in real time, whether you're at home or anywhere else.
With so many innovative features available to activate your lifestyle, our High Performance Homes also come with a complimentary personal home visit to help you get acquainted with the smart technology.
After you move into your new Landsea home, a specialized technician will walk you through all of the capabilities and customization options of your High Performance Home—while also ensuring that all your devices are linked to the Apple® Home app on your mobile device so they're up, running and ready to use. No stress or prior tech knowledge is needed—our team is here to make the setup process easy.
Our High Performance Homes are designed for your convenience, and these innovative home automation features can be fully personalized to fit your lifestyle. Ready to see these smart homes in action? Visit and explore High Performance Homes now available in Northern California, Southern California, Florida and Arizona.
Want to learn more about High Performance Homes? Dive into our interactive experience here and download the HPH brochure here. And be sure to Like us on Facebook and follow us on Instagram and Pinterest to keep up to date on all the latest news, updates and inspiration from Landsea Homes.