What Our Homeowners Are Saying
Homebuyers aren't looking to just buy a house – they're searching for their new home. A place to build memories, raise a family, host backyard parties and enhance their lives. At Landsea Homes, our main priority is providing unrivaled experiences that make the home buying journey a positive and personal one.
See what our homeowners are saying about their home buying experience with Landsea Homes. We think their stories speak for themselves.
Smart Home Features Make Northern Farms a Smart Buying Choice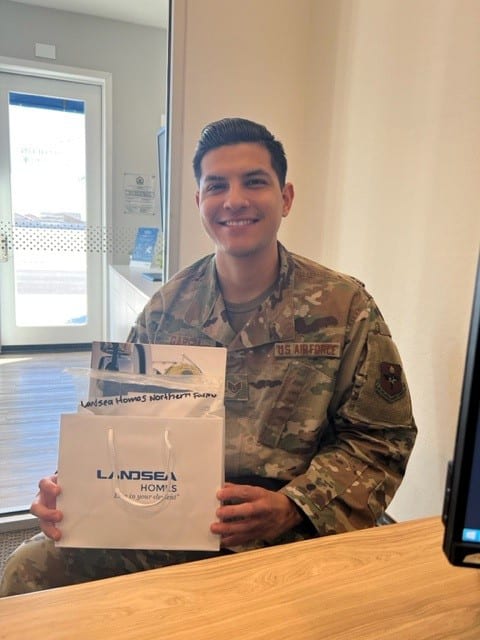 Pablo Garcia, a parachute packer for the U.S. Air Force, was ready to return to his home state of Arizona and search for a new place to call home. The search didn't take long for Garcia, though.
The 25-year-old serviceman bought his new home in Landsea Homes' Northern Farms neighborhood in Waddell, Arizona. The 1,900-square-foot, three-bedroom, two-bathroom single-family home is the perfect place for Garcia to grow.
"I've always wanted a home in Arizona. From the rugged, craggy mountains to the active city life, the area has all that I want, and my number one priority is weather. I love 120 degrees – it's never too hot for me," said Garcia. "When I found Northern Farms, I knew I was home."
Garcia loves the home's layout, which allows for wraparound Dolby speakers in the great room to maximize his movie experience and the large three-car garage for extra storage. He also envisions converting one of the bedrooms into a "zen room." And then there was the unexpected benefit – "a big backyard," said Garcia.
Garcia said he also loves the built-in smart home features, supported by the company's partnership with Apple and the High Performance Homes program. "In this day and age, sophisticated home technology is really important, especially home automation and being able to talk to your appliances and gadgets," he said.
After upgrading the tiling and cabinets, Garcia said the house was just about perfect.
Garcia also gave high marks to Landsea Homes and its sales and support team, as well as the layout of the development.
While the ideas of what to do next with his home continue to swirl, Garcia said, "I realize I have time. I'm going to relax and work through the rest of my unpacking, but I'm looking forward to all that lies ahead of me in this new home."
Visit our Arizona page to explore new homes for sale in Waddell and our other communities throughout Arizona.
An Unexpected Retirement Plan at Verandah at Valley Oaks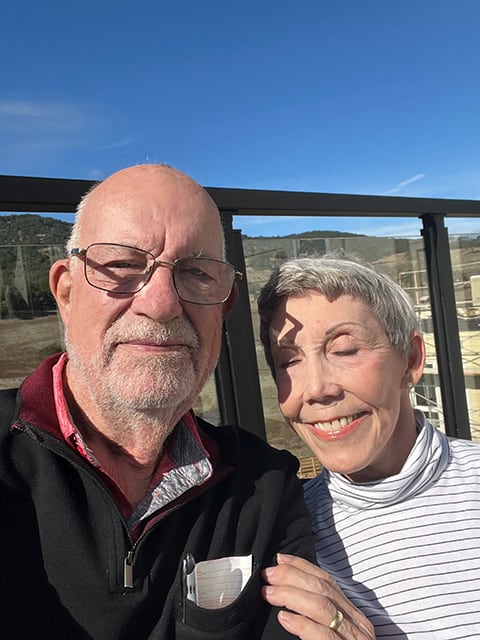 For 47 years, the Clausens lived in one home. They bought it new, made it into their own, raised a family and hosted holiday gatherings and parties with family and friends at their large property. Their days were filled with daily chores, tending to the heavily landscaped yard and making sure the swimming pool was always sparkling blue.
It had been their life for more than four decades.
But at the ages of 81 and 74 years old, Bob and Annie Clausen decided it was time to kick back and let someone else do the work. They found the next chapter of their lives at Landsea Homes' Verandah at Valley Oaks community in Novato, where rolling hills, wild turkeys and a herd of black angus now greet them while they enjoy the evening sunset and happy hour from their rooftop deck.
The best part of all? Someone else takes care of their landscaping.
"We had lived in this small paradise for years, but it became too hard to take care of for us," said Bob Clausen. "A friend of ours caught sight of the construction happening at Verandah, and my wife and I began to keep an eye on it. The very first week Landsea Homes opened its on-site sales office, we went, and we put a deposit down. We may have been the first people to do it because we had our pick of the eighty homes."
The Clausens fell in love with the community's natural landscape and semi-rural neighborhood – a plein air canvas of the North Bay's natural beauty. They can sit and enjoy the rolling hills and big, puffy white clouds against the vast blue sky from the two outdoor decks that came with their unit.
"We have a 170-degree view – without obstruction – of Mount Burdell, and we sit right at the base of it," said Bob Clausen. "It's a restful place, and our new home at Verandah allows us to appreciate the outdoors more than ever before."
While the new townhome is an experiment in vertical living for the Clausens, the couple is enjoying their three-level space with their rooftop deck, second-floor balcony, three bedrooms, two-and-one-half bathrooms and two-car garage.
"I really do think this is a great community for retirees," Clausen said. "There's a tennis club about a mile away with a pool, and we go there often to do our water aerobics. We are having a great time in our new home, and Landsea Homes has been wonderful to work with."
Visit our Northern California page to explore new homes for sale in and Novato and our other communities throughout Northern California.
First-Time Homebuyers Get 'Homey' Feeling in Greenpointe at Eastmark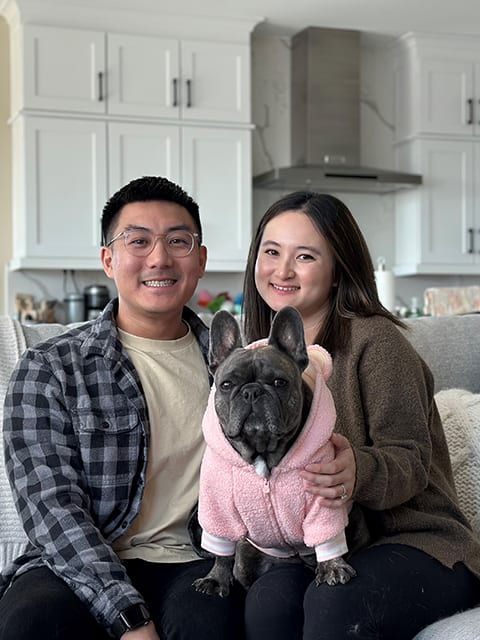 It's a rare thing when first-time buyers feel like they're going home again, particularly when they're hundreds of miles away from their hometowns. But that's the comforting vibe Jack Alvarez got when moving into his new Landsea home he shares with fiancé Michelle Liang in the Greenpointe at Eastmark community in Mesa, Arizona.
"The overall elevation and size of our new home at Greenpointe at Eastmark reminds me of the house I grew up in," Alvarez said. "The neighborhood also has the same feel of stability and safety that I experienced growing up in San Diego. The community reminds me of my upbringing. You see people out and about walking, and there are a lot of established young families."
Maybe best of all for Alvarez, the cost of homeownership came at a fraction of the price of a similar home in Southern California. "I feel lucky to have a house like this for my starter home," said the 28-year-old software engineer.
After touring Greenpointe at Eastmark, it was Landsea Homes' customer service that set itself apart from the other builders in the area.
"There was something about Landsea Homes as a whole," Alvarez said. "It came down to the vibe and energy of their sales counselors and support team."
Alvarez said he was particularly impressed with the sales team and new home sales counselor Tiffany Zamora, who was named Salesperson of the Year in 2021 at an awards competition by the Home Builders Association of Central Arizona.
"I don't know if it's a Tiffany thing, but she was always giving us updates. Even if I didn't ask, she'd send videos as the home was being built." Alvarez said. "It made my experience better knowing someone was looking out for us."
Their two-story home has four bedrooms, and using Landsea Homes' LiveFlex® options, the couple turned one of the bedrooms into a home office. "I was also able to get the room with added insulation and soundproofing, extra plugs and an ethernet connection," added Alvarez.
In addition, the house was equipped with numerous smart home features. "It's really a fun house with all of the technological capabilities and High Performance Home features. There's a lot to play with," Alvarez said.
And there is nothing like the feeling one gets when driving up to their home.
"When I drive up to our home, I just love the way it looks, and I get a 'homey' feeling," Alvarez concluded.
Visit our Arizona page to explore new homes for sale in Mesa and other communities throughout Arizona.
Family Finally Finds 'Home' at Greenfield Village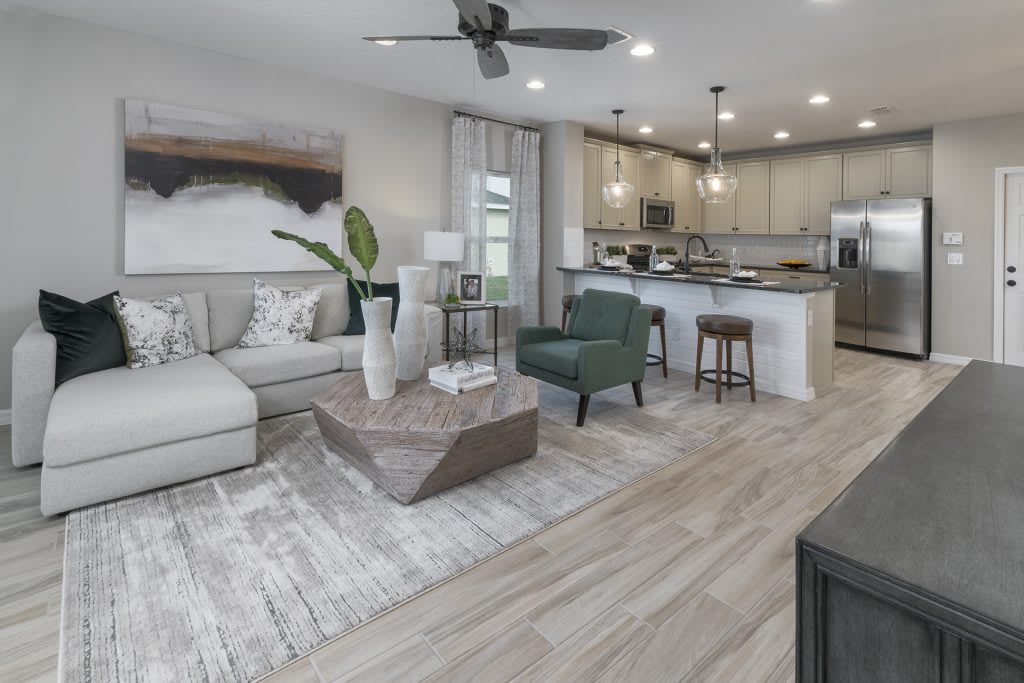 In 2021, Luis Sotomayor quickly homed in on the growing new construction home market, and he and his family began searching for a home in Central Florida. When he saw Greenfield Village by Landsea Homes, it was a done deal.
"When we saw the model homes at Greenfield Village, we liked the look and design of how they were built, the price range and pretty much everything else about the community," Sotomayor said.
He added that a number of other factors attracted him to Greenfield Village, including community amenities such as the beach-entry pool, splash pad and playground.
A first-time home buyer, Sotomayor also had high praises for the sales team and process at Landsea Homes.
"Everything was excellent working with the Landsea Homes team," Sotomayor said. "Every time the house changed, the sales team sent pictures. That part was perfect and showed their genuine interest and care in keeping us updated."
Sotomayor chose the Greenwich floor plan, which features single-level living consisting of 1,711 square feet, four bedrooms, two bathrooms and a two-car garage. "The four bedrooms are perfect. There are separate bedrooms for family members and guests, with an extra room for a home office," Sotomayor said.
Visit our Florida page to explore new homes for sale in Davenport and other communities throughout Florida.
At Landsea Homes, we love to help homeowners achieve their home buying goals! Get in touch with us to see how we can help put you on the path to homeownership today. And don't forget to follow us on Facebook, Instagram, TikTok and Pinterest for the latest updates and home design inspiration.