Landsea Homes Through a Homeowner's Eyes
Building a home that helps you live in your element is what we're all about. And at Landsea Homes, we love to take it a step further and make sure your spaces are tailored to your varied needs and lifestyles. With industry-defining smart home automation technology to keep your living spaces endlessly convenient, innovative ways to envision living spaces through LiveFlex® and LiveGen™ options and communities situated in the most exciting locales, our High Performance Homes are designed for how you live today.
You don't have to take our word for it. Take a look at Landsea Homes from the perspective of some of our homeowners.
The Right Spaces to Have It All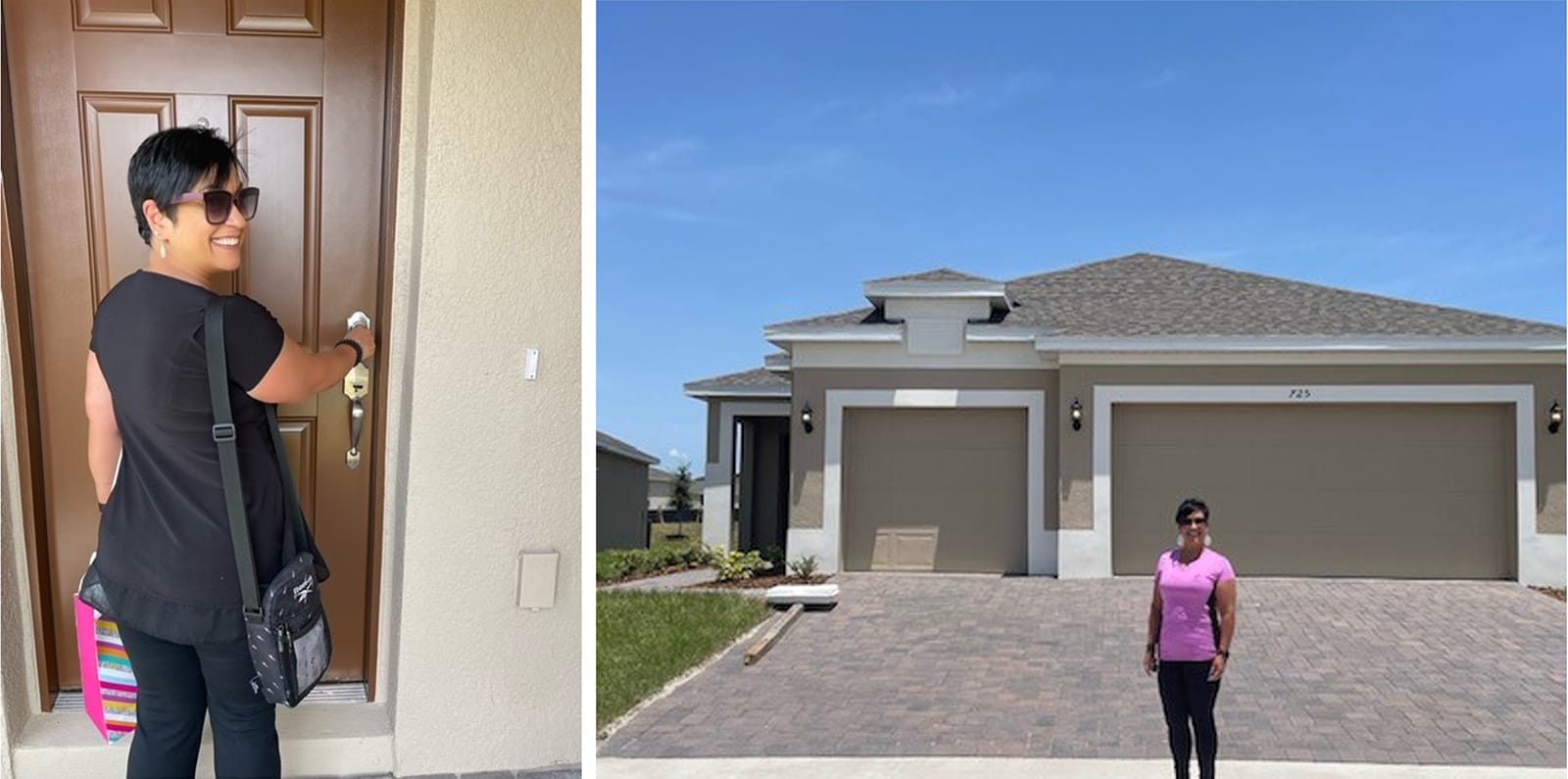 When Lourdes Vazquez was ready to take on homeownership, she came up against a buying frenzy—competitive bidding and above-asking prices on homes she didn't love were abundant. Then, she discovered Preserve at Sunrise in Groveland, Florida, by Landsea Homes—and that's when the game changed. Goodbye, hyper-competitive, stressed-out dealings with homeowners and competing realtors—hello, team of dedicated experts intent on finding your perfect fit.
"I was so happy to have this house. The Landsea Homes sales counselor made my journey a happy one. He was amazing, polite and professional—he removed any stress to help me find exactly what I wanted."
Lourdes said the moment she set foot inside the model home, she knew she had found the ideal place to share with her 89-year-old mom, who moved in with her after Hurricane Maria ravaged her native home in Puerto Rico.
"The model home was perfect," she said. "The one I toured even had the paint colors that I liked. When something is for you, it's for you," she said. We couldn't agree more, Lourdes.
The houses at Preserve at Sunrise were popular and selling fast, but with the support and guidance of a new home consultant, Lourdes was able to qualify quickly and soon secured her new home. Before long, she and her mother moved into their brand new, single-floor, four-bedroom home, which boasts 2,000 square feet of living space and a three-car garage.
As someone who loves to cook, Lourdes is thrilled with her roomy kitchen. "It's spacious and comfortable! Plus, the large island and open floor plan are ideal for entertaining," she said.
And although she has already started to settle in, Lourdes said the first-rate service from Landsea Homes has continued. For example, when she needed a recommendation for a service, the staff was quick to help.
"The Landsea Homes team makes life so easy. I feel like it's the complete package—I can really count on these people to have my best interests in mind," Lourdes added.
With a convenient location that's 30 miles west of Orlando, allowing for easy access to highway 50, and less than 10 minutes from Florida's Turnpike, Lourdes is delighted that her commute is a leisurely 36 minutes through scenery dotted with horses, cows and lakes. Her home is also located 70 miles from Tampa and 50 miles from the Gulf Coast—weekend getaway, anyone?
A self-described outdoor enthusiast, this happy homeowner says Groveland's rural setting was also a major draw for her: "The area is crisscrossed by running and biking trails, which I use because I run regularly."
Let's not forget Lake David Park nearby, a premier destination for bikers, boaters, fishermen and avid birdwatchers. It's also home to a skate park, volleyball courts and a playground.
"I love this house and everything about the community I live in," Lourdes added.
And with the bonus of unmatched amenities—including a pool, cabana and pier with access to the river—it's easy to see why Lourdes is living in her element, every single day.
Explore Landsea Homes' communities and new homes in Florida for sale.
A Smart Home Sealed the Deal for Dylan and Shae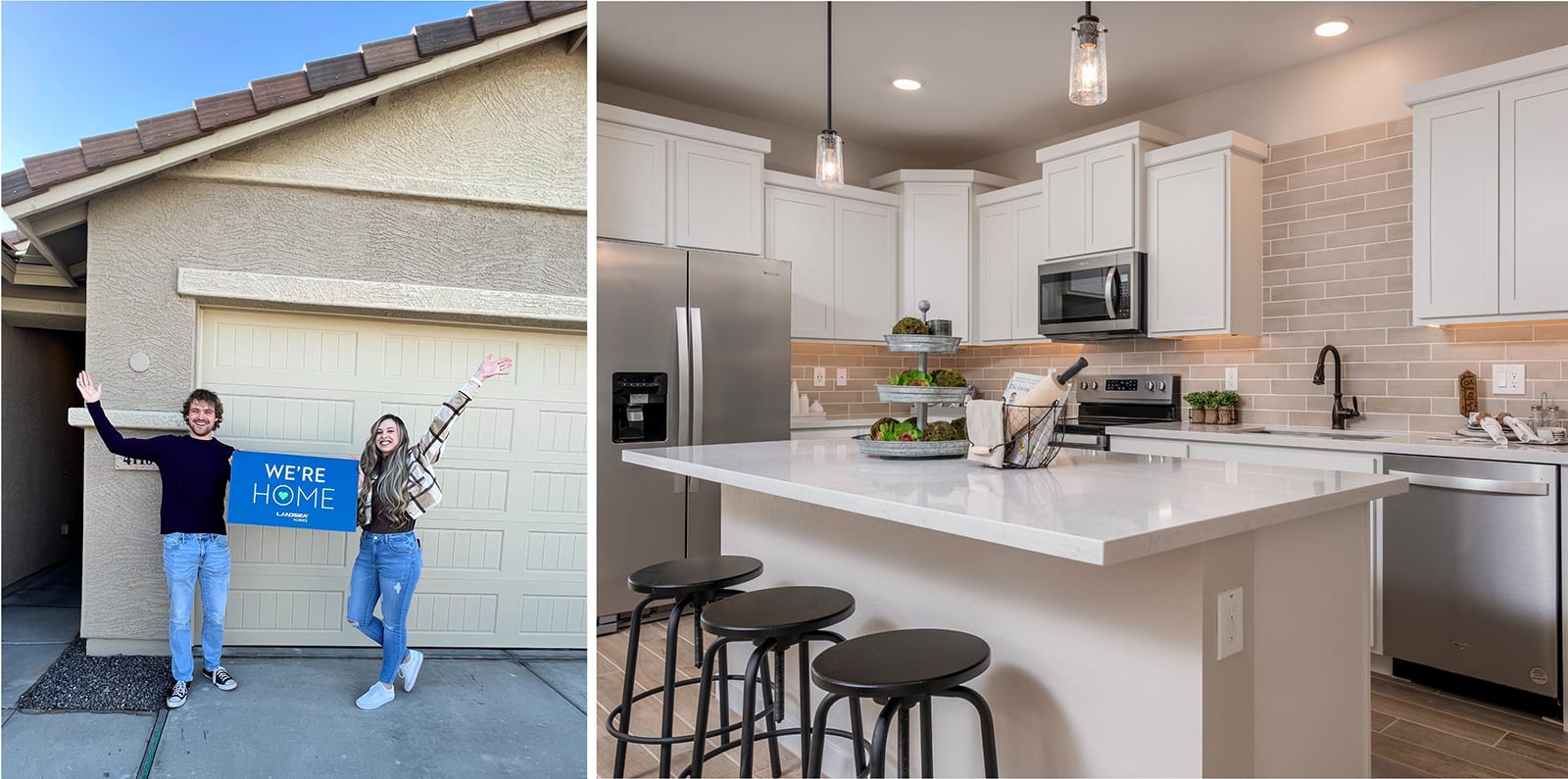 First-time homebuyers Dylan and Shae have lived and rented in and around the Phoenix metropolitan area for most of their lives. The search for their perfect home led the couple to Tolleson, less than 15 miles west of Downtown Phoenix and just south of the I-10—directly to Sunset Farms, where they found exactly what they were looking for.
"We fell in love with the Sabino floor plan," Dylan said. "The home serves all of our needs so well. It's spacious enough for visitors with three bedrooms, one of which will be used by me for a home office. I also really like the kitchen area with the large island," he continued.
Thanks to a smartly designed floor plan and the LiveFlex® opportunities available to them, these happy homeowners have access to plenty of room to host game nights with friends and family. The couple, which enjoys playing darts as well as board and card games, took advantage of Landsea Homes' exclusive LiveFlex® options and converted an optional fourth bedroom into a game room with a half-wall off the home's dining area and great room. Customized spaces so you can live in your element? That's what we're all about.
"It's really nice with the open floor plan," Dylan said of their personalized layout. "We have plenty of space to host friends and family, and in the future, I'm looking forward to hosting holiday family gatherings."
What really helped clinch the deal for the software engineer were the unrivaled new home technology features.
"I'm super into technology and really liked the smart home features," Dylan said. "Our house is equipped with fiber-optic cables, which give me fast internet connection from my home office. From the smart home security, home automation features and other privacy options, we feel safe and comfortable in our new 'smart' home."
And from start to finish, Landsea Homes' team of experts was by the young couple's side to ensure a smooth journey to homeownership.
"They walked us through the framing inspection and told us everything we needed to know as first-time buyers," Dylan said. "They answered any questions, even as we were closing. It was a positive experience that we really want people to know about."
So, what's next for the couple? With a location this convenient, anything and everything! Sunset Farms is about 10 minutes from all the major retail and big-box shopping opportunities the couple enjoys. Among nearby amenities are the Gateway Pavilions, Park West shopping center in Peoria, State Farm Stadium, home of the Arizona Cardinals, and the Westgate Entertainment District in Glendale.
It's safe to say these happy homeowners have found exactly what they need to live authentically in their element, plus a whole lot more—and as Dylan put it, "It's a place that you want to be."
Visit our Arizona page to explore new homes for sale in Tolleson and our other communities throughout Arizona.
Here's to a New Beginning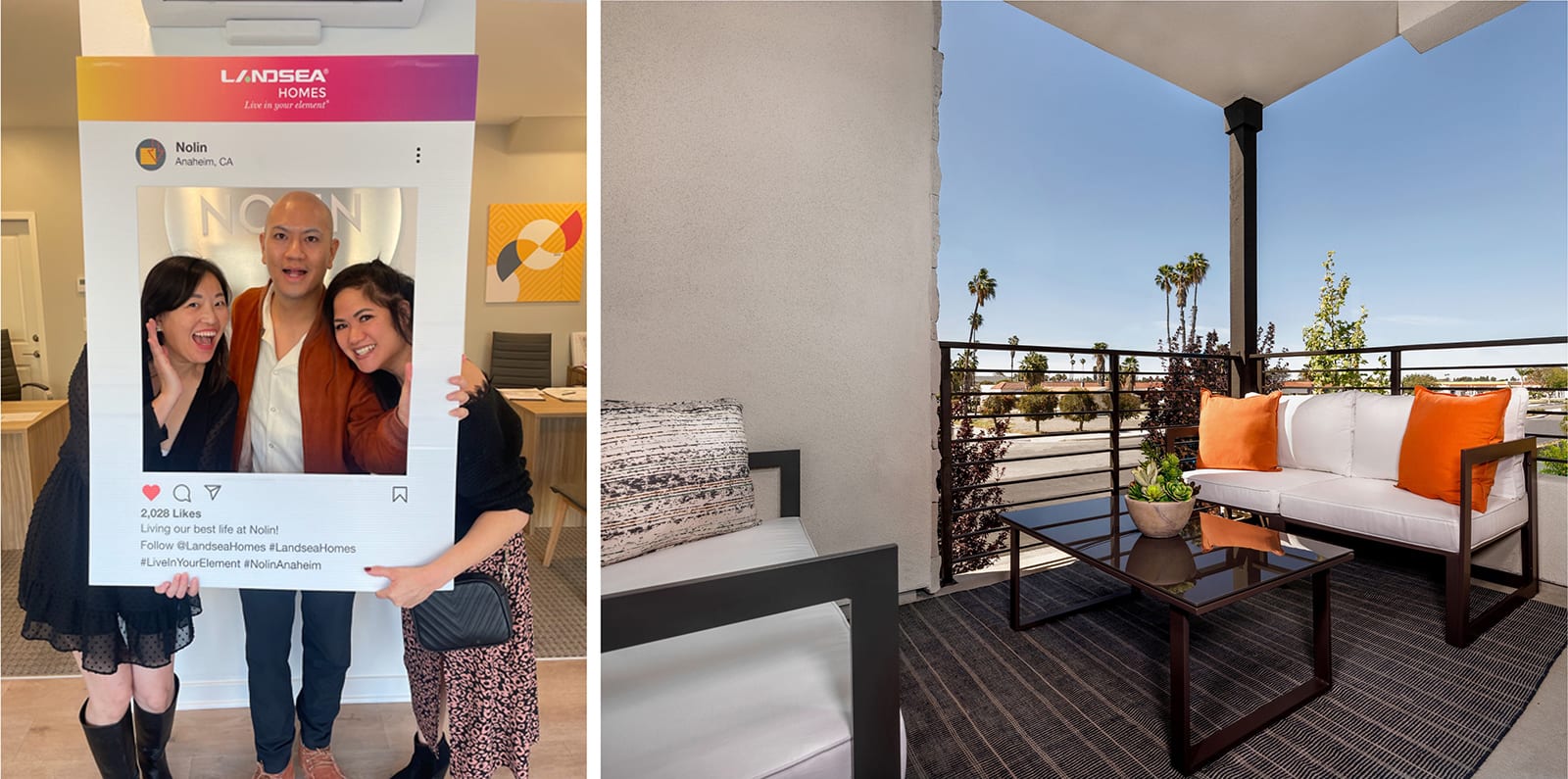 Julie Nguyen longed to own a home of her own. When she toured Nolin in Anaheim by Landsea Homes, she knew that dream would soon be a reality.
Julie fell in love with the community immediately. Sandwiched between Anaheim and Buena Park, it's surrounded by an exciting dining scene in either direction and provides easy freeway access for her commute to Los Angeles.
Julie also loved that her new townhome had character and style and was also completely brand new, which was a relief for this busy mom. Between the open layout, the luxurious kitchen island, the beautiful fixtures, her timeless white subway tile backsplash, quartz countertops and all of the high-end appliances that are standard for a Landsea Homes build—there was absolutely nothing not to like.
But admittedly, for Julie, the youngest of 11 children, one thing stood out. It was the third bathroom on the first floor of her new townhome that made her feel as if she had just become an official grown-up—a grown-up who didn't have to share a bathroom.
"This is me and my husband's first home purchase—and it was personal. I wanted to feel this accomplishment when walking into my house—that feeling of 'we did it,'" Julie said. "At Nolin, we have the space and a great area where family can visit and hang out comfortably. They've already asked us how close Disneyland is, and I told them they could easily take an Uber."
For the Nguyen family, the move to their new home is a bright spot after having to cancel their wedding and honeymoon in 2020. With the money saved, they decided to purchase their first home. What a win!
While they spent the last five years living in Alhambra, a suburb outside of Downtown Los Angeles, they expanded their home search to other areas where they could get more space for their money—and this included new developments in Orange County.
Landsea Homes' Nolin townhome community offers a collection of 65 townhomes with five distinctive three-story floor plans ranging from 1,084 to 2,001 square feet and generous two-car garages. Green lawn spaces peppered throughout the community, barbecue areas, picnic tables, a dog park and a children's playground complete this have-it-all community. What's not to love—right, Julie?
"I liked everything about Landsea Homes. I liked the presentation from the sales counselors, the location of the community—and the interiors of the homes had a craftsmanship look…that no other homes we saw had," Julie added. "I fell in love with how homey and welcoming the community was, and I was captivated by Nolin because the townhomes didn't look standard."
The cherry on top? Julie and her husband's progression from homebuyers to homeowners was surprisingly seamless thanks to the support of a dedicated team of experts at Landsea Homes.
"We were ready to deal with the difficult California housing market, but our Landsea Homes sales counselor made it a wonderful experience. I thought we were going to be fighting for property, but once we made our decision, I just kept thinking, 'this is so easy,'" Julie said. "My father told me he is very proud of us; this is a big step in our lives and for our family."
Be sure to look at all of Landsea's new homes for sale in Southern California.
At Landsea Homes, we love to help homeowners achieve their home buying goals—and it shows! Get in touch with us to see how we can help put you on the path to homeownership today. Don't forget to follow us on Facebook, Instagram, TikTok and Pinterest for the latest updates and design inspo.