Cheers to 10 Years!
Landsea Homes is celebrating our 10-year anniversary. Over a period of 10 weeks, we'll be taking a journey through each year of our history and commemorating this milestone with a limited-time Anniversary Special of up to $20,000* to help make your new home dreams come true.
$20K, Let Me Count the Ways
1. Personalize your financing options with Landsea Mortgage:
Whether you're buying your first home or fifth, our focus is to provide you with exceptional customer service and home financing options that are best for your unique needs. Pre-qualifying is a great way to determine how much home you can comfortably afford and what your interest rate will be. This is where the up to $20,000* Anniversary Special can help make the numbers work in your favor. Depending on your personal financial situation, you can choose to reduce closing costs, lower your interest rate or lock in your interest rate. You can rest assured that Landsea Mortgage powered by NFM Lending will work with you to find the right financial solution and support you every step of the way through close of escrow.
Home Purchase Process
Are you on the right path to purchasing a new home? We've laid out a simple step-by-step look at the entire journey so you'll know what to expect and how to prepare along the way.
Ready to take the next step? Here are some of our helpful resources to make it easier than ever to buy a new house.
Get Pre-Qualified >
Payment Calculator >
No Cost Refinance >
Extended Rate Lock >
2. Personalize your home with designer upgrades and options:
Buying a new home is a big deal, and we know you want it to look just right. That's why if you purchase a to-be-built home, you get to sit in the designer's seat when it comes to personalizing your space. At the Design Center, you'll get the chance to bring your vision to life with our artistic experts who are ready to take you through foundational finishes—from flooring and countertops to cabinetry selections—and with the up to $20,000* Anniversary Special, you'll be able to include all of the details that will make your brand new space really feel like home.
What's more, when you purchase with Landsea Mortgage powered by NFM Lending, you can have the cost of total personalization built into your monthly mortgage investment. That means you can have the home of your dreams on move-in day without worrying about extra upfront costs or fixer-upper repairs.
What to Expect at the Design Center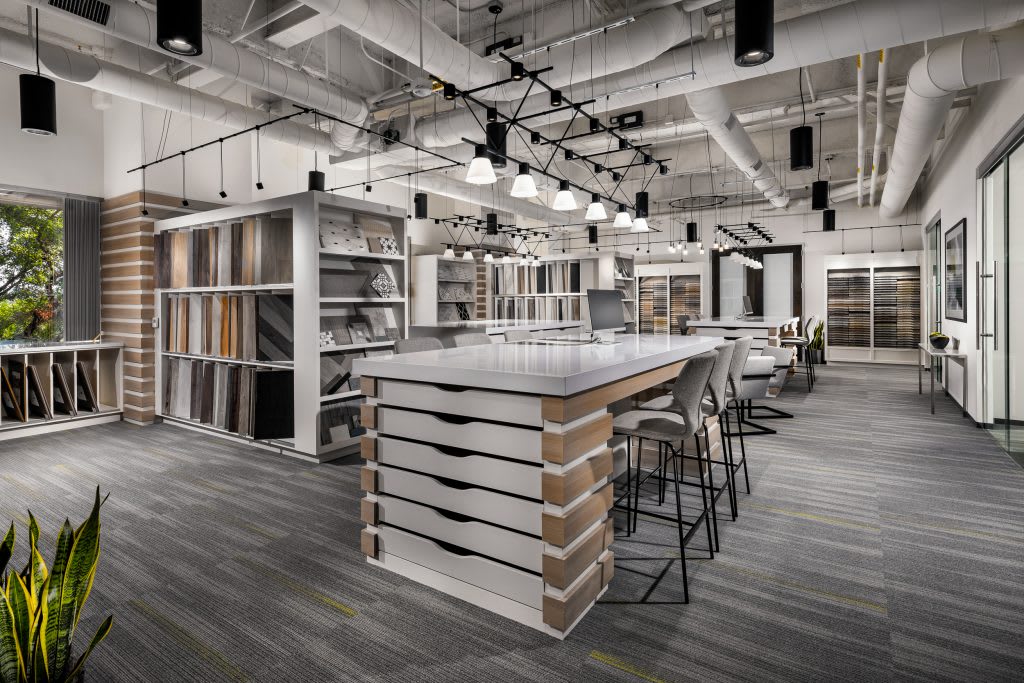 Once you've shared your vision and general budget, our expert designers will be ready to take you through the available design choices for your new home and suggest what may best fit the interior design aesthetic. You'll get your foundational decisions out of the way first, including flooring, countertops and cabinetry selections. From then on, it's all about the details. Total personalization comes into play when you're making decisions about knobs or pull tabs, natural wood or painted, chrome or steel faucets and more. Creating a space that's made just for you from the ground up is one of the best parts about enjoying a new-construction home by Landsea Homes.
Want an inside look? Learn more about the design experience and how to prepare.
At Landsea Homes, we love to help homeowners achieve their home buying goals! Get in touch with us to see how we can help put you on the path to homeownership today. And don't forget to follow us on Facebook, Instagram, TikTok and Pinterest for the latest updates and home design inspiration.
Join us as we reflect on our journey from 2013 to 2023 through a series of videos. Each week, you'll discover a new episode as we look back on our decade of excellence, sharing insightful moments and behind-the-scenes stories that have led to our success.
This is a co-marketing piece with Landsea Homes US Corporation ("Seller"). Landsea Mortgage powered by NFM Lending ("Affiliated Lender") is not affiliated with Seller. You are entitled to shop around for the best lender/builder for you.
*For a limited time, Seller is offering a closing cost credit UP TO $20,000.00 that can be applied toward design options and upgrades, discount points and/or other settlement costs at closing (the "Promotion"). For eligibility, an applicant must (1) pre-apply with Affiliated Lender by visiting www.landseamortgage.com prior to submitting an offer to qualify for the Promotion; (2) utilize the services of the Seller's closing agent and finance with Affiliated Lender; and (3) satisfy all other eligibility criteria of Seller and/or Affiliated Lender. Applicants are not required to finance through the Affiliated Lender; however, the Promotion is only available through the Affiliated Lender. The total closing cost credit by Seller is subject to maximum contribution limitations based on mortgage loan program guidelines. Inquire with Affiliated Lender directly to learn more about its mortgage programs. Other restrictions apply. This credit is not redeemable for cash or cash equivalents. Void where prohibited by law.
**Promotional period runs for loans under contract between 05/04/23 and 07/16/23.
Landsea Mortgage is a division of NFM, Inc. dba NFM Lending, NFM NMLS #2893. NFM is an equal housing lender. Landsea Mortgage has a financial relationship with Landsea Homes, and you may choose not to use Landsea Mortgage in connection with the purchase of a Landsea Homes property. You are entitled to shop around for the best lender/real estate company for you. Landsea Mortgage powered by NFM Tempe branch is located at 850 West Elliot Road, Suite 101, Tempe, AZ 85284. Branch NMLS #1490627. MLOs and company are CA licensed by the Department of Business Oversight under the California Residential Mortgage Lending Act. CA #6039416 and 4131349 (dba NFM Consultants, Inc.). Branch NMLS #1490627. Branch licensing information: AZ 0121417. NFM, Inc. d/b/a NFM Lending. NFM, Inc. is licensed by AZ #0934973; FL #MLD174 and MLD795; TX #2893. For NFM, Inc.'s full agency and state licensing information, please visit www.nfmlending.com/licensing. NFM, Inc.'s NMLS #2893 (www.nmlsconsumeraccess.org). NFM, Inc. is not affiliated with, or an agent or division of, a governmental agency or depository institution. Copyright © 2023.
© 2023 Landsea Homes US Corporation. LANDSEA® and LIVE IN YOUR ELEMENT® are federally registered trademarks of Landsea. All rights reserved and strictly enforced. This is not an offering where prohibited by law. No information contained herein shall be deemed to constitute a representation or warranty of any kind. Please consult a Landsea Homes sales representative for details. Landsea Real Estate California, Inc. CA DRE license #02030520 | Arizona Broker #BR531087000. LIC #C0688244000. ROC #257091. ROC #295355. ROC #324050. ROC #275051 | CGC #1507971.